This first post is actually a copy of a post I did on
My Fitness Pal
last week. And the first few posts at least might be on this same subject, my decision to race my mountain bike...
Originally posted
3/18/14
:
In January at a team party for my husband's race team,
Pedal Pushers
, the captain comes up to me and asks "So which races are you going to do for us this year?" I laugh, assuming that he must be very drunk. He persists. "You DO have this nice new 'RACE' bike..." (It was a demo, and a really good price, way better bike than I need, a 2013 Scott Spark 920 from
Pedal Pushers Cyclery
). I assure him that I am very slow and after bugging me for a few more minutes he moves on. I'm still pretty sure he was drunk.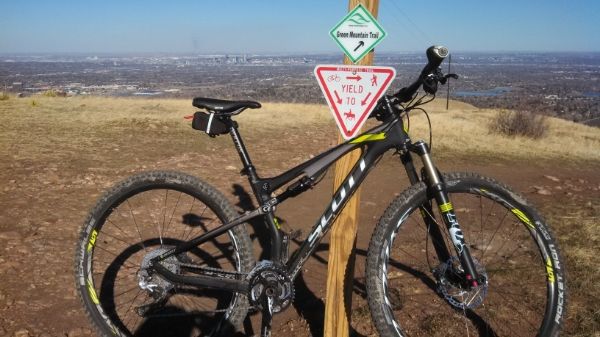 However, the truth is that ever since attending Jeremy's first race I've harbored secret desires to do it too. But like I said, I'm slow, very slow. I like to pretend I'm not the slowest person out there on the trails, just the slowest person to use Strava. But still.... I DO have a race bike...
Last week, after getting on my bike a few times this "early-spring", I remember there's a womens club in the area that hosts a women only race at the park right by my house, the park I've ridden a million times,
the Beti Bike Bash
. It has a "Never Ever" category. I look it up. It is only 8 miles long, 2 laps around a 4 mile loop, in a part of the park I rarely ride. The "sport" category is only 12 miles. Jeremy does 50 to 100 miles every time. These seems awfully short in comparison, however I did mention it in passing to the husband. Today I decide to look into the other race in the park,
Battle the Bear
, a much bigger, more popular race. It uses a 10 mile loop, over the area I do actually do all the time. Jeremy was planning on doing the 50 miler. They also have an "Appetizer" option of 20 miles. The slowest woman to do it last year did it in about 2 hours. I secretly decide to go out and try to do the loop. If I can do one loop right now in one hour, then I was going to go ahead and try to train for the 2 loop race. I wasn't going to tell Jeremy until I had tried the loop first. I wasn't sure wether he'd try to discourage me or not (because I'm slow, not because he's unsupportive or anything).
I'm making dinner this evening and he comes and says he doesn't think he's going to do Battle the Bear. When I ask why he says he's doing too many races and he doesn't want to spend the money for the race fee, and that that way he can support me in my race. Apparently he thought the Beti Bike Bash was the same day. I tell him it's not, but a month later. I then come clean and confess my secret Battle the Bear plans and he's all for it. (There's also kids' races at both events which will be fun)
So yeah. I might race my mountain bike after all. I AM really slow though...